Birdaday 2019 Compact Desk Calendar
Twelve 4"x6" glossy photographs of birds from the
Northeast of North America in a folding display case
Email for volume discounts, wholesale prices, custom calendars, or to order by check.
— Order Below —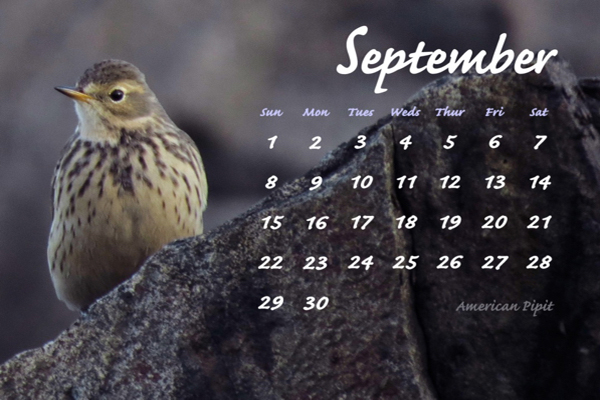 We see American Pipits most commonly during migration in open ground like beaches and mudflats, while they breed in Arctic and Alpine tundra. I've never seen their gray above and buff below breeding plumage. In other parts of the world it's known as the Buff-bellied Pipit.
Birdaday 2019
Compact 4x6" desk calendar comes in a clear folding display case.

$15.99 each
Free Shipping


6-pack of Birdaday 2019
Six desk calendars with folding display cases (best value--1 free)

$79.95 each
Free Shipping

Refill Envelope for Birdaday 2019 (no case)
Recycle last year's case or use with your own 4x6 photo-frame


$13.99 each
Free Shipping
— Previous Calendars —
© Phillip Augusta. All rights reserved.