Birdaday 2019 Compact Desk Calendar
Twelve 4"x6" glossy photographs of birds from the
Northeast of North America in a folding display case
Email for volume discounts, wholesale prices, custom calendars, or to order by check.
— Order Below —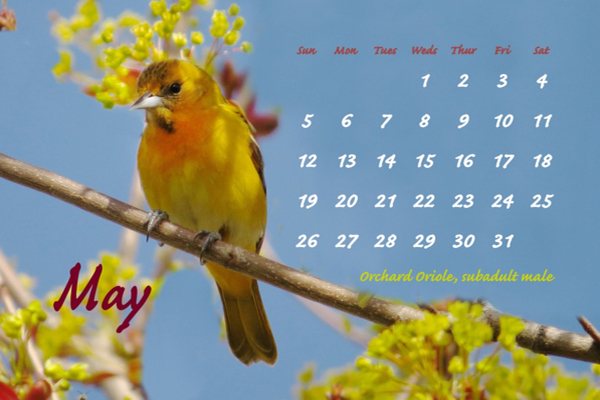 Most songbirds mature after just 1 year, but orioles take 2. This Orchard Oriole's an immature male, much brighter and yellower than adult males who are black above and a rusty orange below, and often mistaken for a Robin.
Birdaday 2019
Compact 4x6" desk calendar comes in a clear folding display case.

$15.99 each
Free Shipping


6-pack of Birdaday 2019
Six desk calendars with folding display cases (best value--1 free)

$79.95 each
Free Shipping

Refill Envelope for Birdaday 2019 (no case)
Recycle last year's case or use with your own 4x6 photo-frame


$13.99 each
Free Shipping
— Previous Calendars —
© Phillip Augusta. All rights reserved.